An improvement on an already fine product...
Ask any accountant and they will almost always tell you that when it comes to Fixed Asset Accounting, Best Software's FAS system is the state of the art! For both Enterprise and Government, FAS sets the bar for others to follow.
That doesn't however, mean it's perfect...
One of FAS's fabulous features is it's ability to save images of any kind in the database along with the asset data. With the click of the mouse an entire catalog of images for that particular asset can be viewed. Things such as photos of the asset, scanned images of original invoices and Packing lists, Purchase Orders, Maintenance and Service records are just some of the examples of the valuable information that can be at your finger tips. Imagine you're calling in a warranty claim on a piece of equipment. You think you have all the correct information you need, until the customer service rep says, "Sorry, That's not a valid serial number". With an image of the original invoice on your monitor, it's easy to see that the person that got you the serial number (While standing on their head with a flashlight in their teeth!!) transposed a couple of numbers and that "8" was really a "6". It's really a great feature!
Now the problem. When Best Software created the asset image feature, they didn't give quite enough thought to exactly HOW those images were going to get into the system. Presently, it's a multi-step process and assumes that the images you want in the FAS system, are already saved as files on a computer somewhere. Alas, such is not usually the case and, there is no support for scanners what so ever.
Now for the solution...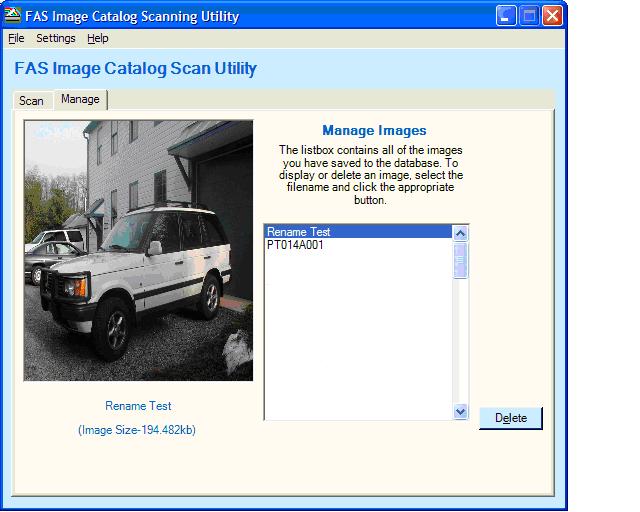 The Image Cataloger for FAS is a stand alone utility that's sole purpose is to get images into the FAS Fixed Asset Accounting system. It supports any TWAIN compliant Scanner, including networked, shared scanners. If your scanner has an Automatic Document Feeder, you can load it with a number of documents for an asset and, with a single mouse click, have them in the FAS system as fast as your scanner will feed them. You can even have a user that isn't allowed into the FAS system for security reasons, load images.